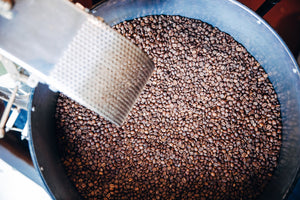 about us
Café 208 was created to support the coffee culture in our community and industry.  We are a locally owned and operated small business with significant resources to support many coffee and coffee business related needs across multiple industries.  Our passion is helping our customers grow and be successful.  We have a variety of solutions to meet our customers needs.  Every day, we stop around 10:00am to check in with each other, grab a cup of coffee, visit, evaluate and strategize.  We invite you to reach out and come have coffee with us.  We're easily accessible in the central part of the Treasure Valley just off i84.  Shoot us a line, and come join us for coffee!
COFFEE. COMMUNITY. CONNECTION
MICRO/MACRO ROASTERS, COMMERCIAL, RETAIL & MANUFACTURING
Green Coffee Storage
Storage/Receiving/Delivery
Co-Packing
Ghost Roasting
Contract Roasting
Equipment Rental (coming soon)
Special Order Processing
Roasting Supplies (cans, bags, etc.)
50g Sample Roaster Available
Bulk Coffee
Flavoring
Recipe Formulation
Custom Blending
Coffee as an ingredient
Private Label
COFFEE SHOPS & COFFEE DRINKER
We are passionate about helping you find a great solution for your passion....the coffee that you serve. We roast fresh coffee every day for our partners to provide the best coffee possible. Let us help you focus on what matters most, your customer. We can do the heavy lifting.
EDUCATION OFFERINGS
CUPPING ROAST LEVELS
Explore how flavor perception changes at different roast levels through sensory evaluation.

CUPPING GRIND CALIBRATION
A scientific approach to dialing in grind settings for a balanced cup of coffee.

TRIANGULATION CUPPING
Bling testing random samples of control and catch run coffee for quality control and consistency in production.
More Information
Cheers!
Coffee. community. connection.
We are coworkers, neighbors, friends and most of all, family. We are real people with a deep deep love for quality coffee.